Doig Optometry COVID-19 Reopening
The staff and doctors at Doig Optometry are excited to be open again after the government mandated COVID-19 closures. We want to thank our patients for your understanding and for your support and loyalty during this difficult time. We are pleased to be able to safely meet your needs for eye exams, contact lens care and eyeglasses, even in the face of COVID-19. We have made a few modifications related to COVID-19. These changes have been made for two reasons: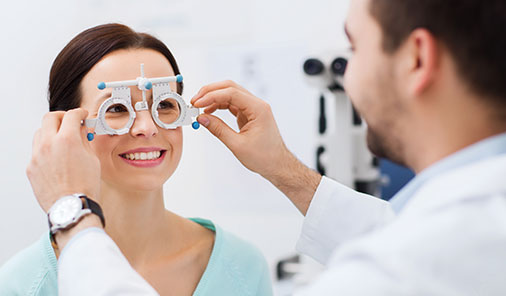 1. To keep patients, staff and doctors safe while they visit Doig Optometry.
2. To help patients, staff and doctors feel safe while they visit Doig Optometry.
If you are anxious or nervous about COVID-19, I hope that reading about Doig Optometry's COVID-19 response will re-assure you that you can receive the eyecare you need safely. If you are less concerned, then I would like to personally thank you for your patience and for the things you will do to help the other patients, staff and doctors feel safe while we are at Doig Optometry together.
For more information about our COVID-19 response, Read below:
Sincerely,
– Dr. Russell W. Doig, Owner, Optometrist, Doig Optometry.
Doig Optometry COVID-19 Response – Screening
Screening means asking patients, staff and doctors specific questions in order to guide their choice to attend the clinic or to stay home.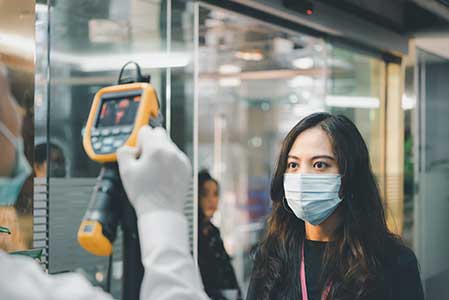 Each day, before the office opens, Staff and Doctors are required to answer a list of questions. Their ability to answer "yes" or "no" to each question determines whether they are allowed to work at Doig Optometry that day. Only Staff and Doctors who are healthy, with the least possible risk of having being exposed to COVID-19 are allowed to work at Doig Optometry that day. That way patients can feel confident that there is the least possible risk (there is no such thing as no risk) of being exposed to COVID-19 at Doig Optometry. Also, staff and doctors can feel the same security that they will not be exposed to COVID-19 during their interactions with their coworkers.
Patients are also asked a similar set of COVID-19 screening questions before they book an appointment, and again before they enter the office at the time of their appointment. That way everyone who comes to our office can feel safe visiting Doig Optometry.
Doig Optometry COVID-19 Response – Distancing
Social Distancing has become a well understood norm during social interactions in public. It means maintaining a distance of 6 feet, or 2 meters from other people to reduce the risk of spreading or contracting COVID-19.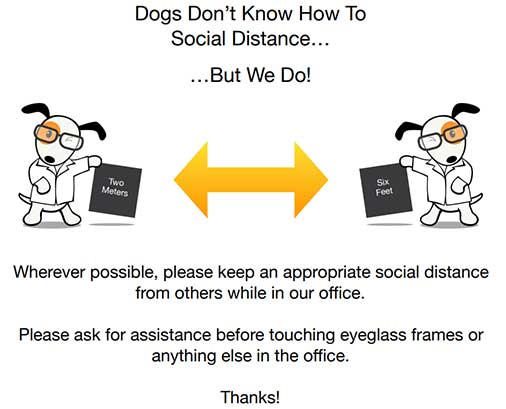 In order to make this possible at Doig Optometry, we have removed most of the waiting room chairs. We have positioned the remaining chairs 6 feet apart so it's easy to sit at a safe social distance. We have marked our floors with tape to indicate safe social distances when standing at the reception desk. You will notice the same things in the exam room. In the eyeglass dispensary, each frame display board it six feet apart.
These are all excellent ways of distancing patients and staff in space. Such distancing becomes impossible if the office is too crowded. In order to prevent this, all patient visits to Doig Optometry are by appointment during the COVID-19 pandemic. This is so that we can minimize "patient overlap" in our office.
You will notice that when you come to Doig Optometry, you will have enough room to safely distance yourself from others. This is in keeping with our Patient Care Priority® (link to Patient Care Priority Page) and it allows us to give you the one on one attention that's part of our basic practice philosophy. (link to thorough eye exam page) At Doig Optometry, we've been spending about an hour with each patient since we opened our office in 2016. We'll spend about an hour with you during the COVID-19 Pandemic. This way you won't feel "hurried along" or "crowded out" while you are choosing your eyeglass frames or making choices about your eyeglass lenses.
Doig Optometry COVID-19 Response – Cleaning
The novel coronavirus COVID-19 can be transmitted when it lands on a surface, and another person has contact with that surface. Shared utensils at a buffet are an example of a surface that can become contaminated with the COVID-19 virus and cause an outbreak. This has occurred in Alberta at family gatherings, at a bonspiel, etc. Thankfully, effective cleaning can eliminate the COVID-19 virus from surfaces before they are touched.
At Doig Optometry, each room is cleaned with a virucidal cleaner before a patient enters.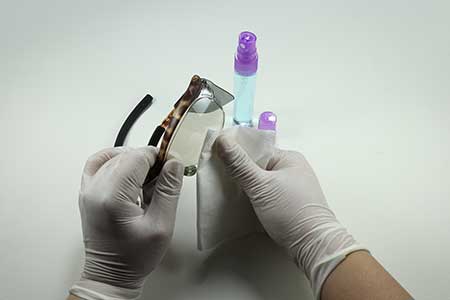 Yes, that's a lot of cleaning, but we've set aside the time to do it so patients staff and doctors can feel safe. We also clean each frame that is touched by patients or staff through the frame selection process. When you select your frames, we will ask you to put your choices in a tray for cleaning once you've made your selection. Then each frame is cleaned.
Doig Optometry's eyeglass spray cleaner is an enzyme based natural lens cleaner that dissolves oils and grease. It is hypoallergenic, pH Neutral, Alcohol-free, Scent-free, Solvent-free, and biodegradable. It contains no VOC's. After all these benefits, we learned in late May 2020, that our spray cleaner is also effective at destroying the COVID-19 virus. Hurray! Thats why we use it in our office to clean each frame that's been tried on by a patient, before returning it to the frame display board. Yes, you can purchase it to use at home!
After eyeglasses are repaired or adjusted, we also clean the tools we've used to do the job. This way patients staff and doctors can feel safe knowing that the chairs they sit in, the frames they try on, and all the surfaces they encounter are safe to touch.
Staff and doctors wash their hands before each patient encounter.
Lastly, products and packaging are cleaned before they are dispensed to a patient. Curb-side pick-up is available.
Doig Optometry COVID-19 – PPE
We require everyone who visits Doig Optometry to wear a mask.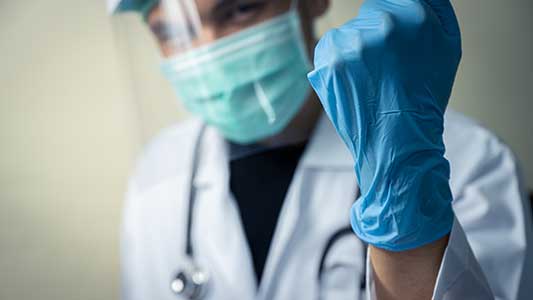 There are parts of an eye exam that happen within 2 meters (6 feet), and there's no way around that. Since this is the case, personal protective equipment is necessary for certain steps and for certain parts of you eye exam. Also, although we try our best, there are times when people forget to keep their 2 meter / 6 foot distance even when they can. That's Why we require everyone who visits Doig Optometry to wear a mask. It's an added level of protection and security for those moments when social distancing doesn't protect us.
Staff and doctors also wear a mask. At any time when staff or doctors must touch a patient, they wear examination gloves. There is a "breath shield" plexiglass barrier between patients and staff at the front reception desk.
It should be noted here that these steps are taken after patients, staff and doctors have passed the COVID-19 screening questions. Personal Protective Equipment cannot replace the other strategies (Screening, Distancing, Cleaning) that are our first defense against COVID-19. There is personal protective equipment, much more effective and difficult to obtain, that must be worn when seeing a patient with COVID-19. Since Doig Optometry does not have access to this level of Personal Protective Equipment, patients with COVID-19, or who have possibly been exposed to COVID-19 cannot be seen at Doig Optometry. If this is the case for you, the staff and doctors at Doig Optometry will make other arrangements for you to be seen at a Calgary eye care provider who has access to this level of PPE.