I-LID 'N LASH® HOCL CLEANSING SPRAY
A CONVENIENT, DAILY OCULAR CLEANSING & HYDRATING SPRAY FOR LIDS AND LASHES
FORMULATED WITH PURE HOCl
MADE IN CANADA
I-LID 'N LASH® HOCL CLEANSING SPRAY with .02% pure HOCl cleans and hydrates the eyelids and eyelashes to maintain optimal lid and lash health.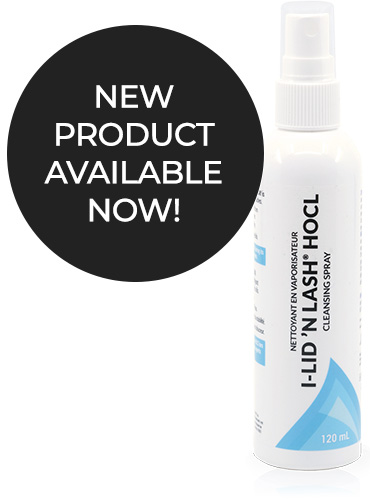 Contains pure HOCl.
Water-based cleanser.
Naturally, hydrating ingredients.
Safe and gentle for daily use, even on sensitive skin.
All natural, non-toxic, high-purity formulation.
Contains no additives or chemicals.
Contains no alcohol, oil, sulfates, parabens or added fragrance.
Optimal pH for ideal product stability.
Spray & Go. No need to rinse-off!
Available in 120mL spray bottle
---
Why use HOCl?
Gentle but powerful disinfectant to kill bacteria, viruses, spores, and fungi.
Produced naturally in the body and mimics the body's natural defense mechanism.
Widely used in healthcare and optometry for its disinfectant properties.
Clinical benefits of HOCl
HOCl is useful in managing bacterial overload in conditions associated with:
Blepharitis
Demodex
MGD
Dry Eye
---
Ask your Optometrist for it today!