Wearing protective eyewear reduces your risk of eye injury and improves your performance. At Doig Optometry, our recommendations for safety and sports glasses are always made on the basis of ensuring the safety of our clients and enhancing their clarity of vision.Our safety & sports glasses come with:
Patient Care Priority®
Recommendations for your specific use
Quality frames and lenses
Doig Optometry also supplies safety eyewear for use in racket sports and prescription swim goggles for swimmers. We can make prescription dive masks for scuba divers as well. We also have solutions specific for prescription shooting glasses, be it archery or hunting.
Please call our office or visit us if you have questions regarding any of these safety glass and sports glass options. If you need a pair of safety glasses, please be sure to mention this at your next eye exam at Doig Optometry.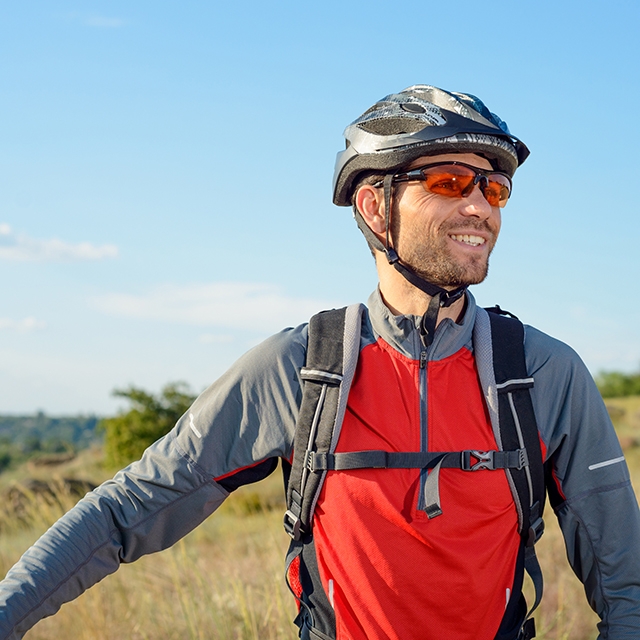 Impact-Resistant Safety & Sport Glasses
Safety and sports eyewear are made of resilient and strong polycarbonate, a thermoplastic that was first developed in the 1970s for aerospace applications. Today, polycarbonate continues to be used on the helmet visors of astronauts and space shuttle windshields.
Polycarbonate is made through a process called injection moulding. The solid material starts as small pellets that are then melted under heat and injected into lens moulds. The lenses are compressed under high pressure and cooled to form a  lightweight, impact-resistant lens.
Comfortable Frames For Sports Eyewear
Sports eyewear frames are designed to be comfortable and adaptable for your particular application. Frames for safety and sports eyewear are made of impact-resistant plastic or polycarbonate. They also come with the option of rubber or silicone padding for extra cushion where the frame touches the head and nose.
Most sports eyewear frames can fit both prescription and nonprescription lenses. Safety and sports eyewear are ideal for those who need to improve their vision on the court or field as well as for those who simply need enhanced eye protection.
---
Prescription Safety & Sports Glasses For Different Needs
Different sports require different types of frames. At Doig Optometry, our knowledgable staff can help guide you to choose the right frames that are comfortable and safe. Whether you are an avid tennis player or skier, we have a solution for you.
Prescription Eyewear For Racquet Sports
These frames are designed to provide eye protection without interfering with the player's peripheral vision while on the court. Specialty lenses for tennis players are a popular option to intensify the colour of the tennis ball with innovative lens tints, making it easier to track the ball and enhance performance.
Prescription Eyewear For Swimming
Over time, extended exposure to chlorine can damage the outer eye without the proper protective eye gear. Prescription goggles are available for swimmers looking to improve their visual clarity and air-tight nonprescription goggles are available for swimmers who don't need glasses or who choose to wear contact lenses underwater.
Prescription Eyewear For Scuba Diving And Other Water Sports
Wind, UV rays, and saltwater are just a few of the natural elements that outdoor water sports enthusiasts are exposed to. For this, prescription eyewear is available with polarized lenses to reduce glare and eliminate harmful UV rays from entering the eyes. Impact-resistant polycarbonate goggles prevent lenses from shattering, reducing the risk of eye injury.
Prescription Eyewear For Hunting, Shooting, And Archery
Outdoor conditions in heavily wooded areas require special lens tints for different conditions. Yellow or orange tints are ideal for overcast conditions to improve contrast while brown or grey tints filter sunlight on bright days. Hunters also have the option of adding a red tint to their lenses to intensify the target against a backdrop of dark trees.
Innovative Sports Eyewear Solutions
At Doig Optometry, our sports eyewear solutions are not limited to the above. We offer a range of options and will work with you to find the right lenses and frames for your particular use in sport or to enhance your safety.