At Doig Optometry in Calgary, we have the privilege of helping Canadians find the right pair of hunting and shooting glasses.
While most marksmen know that hearing protection is a necessity when going shooting, fewer are aware of just how important protective eyewear is as well.
That's why Doig Optometry is your go-to provider for Decot Sports Glasses in Calgary. Keep reading to learn more.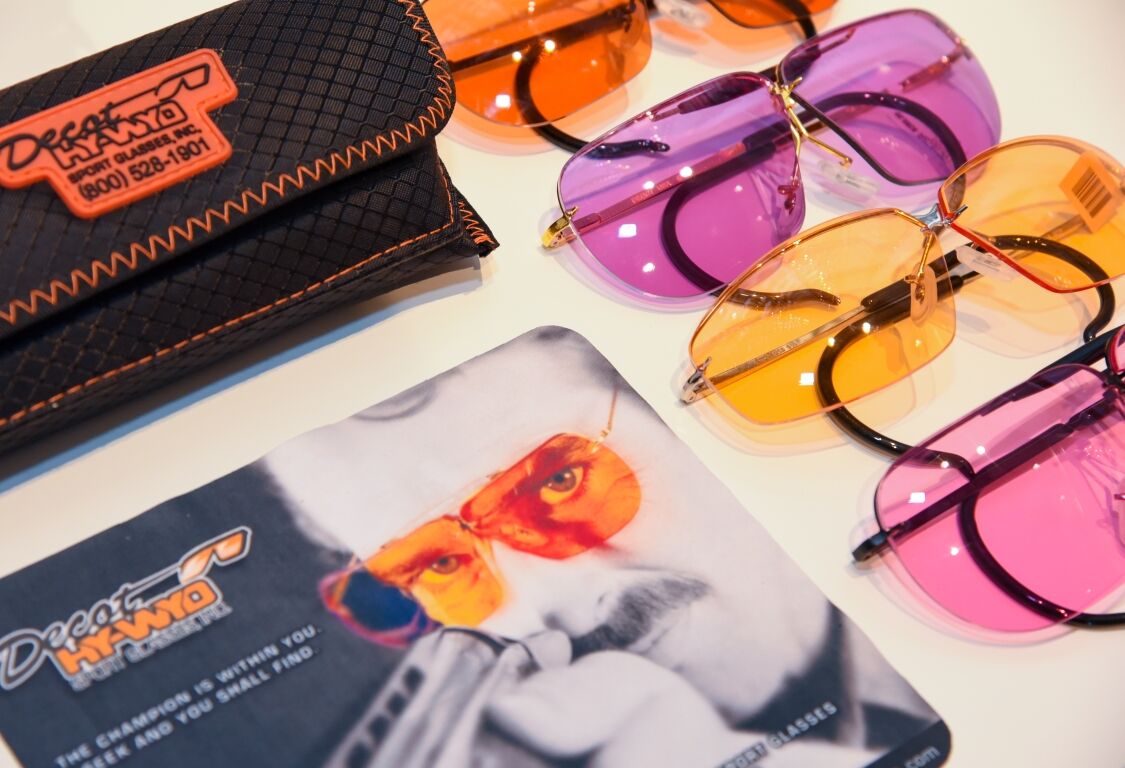 The Importance of Protective Shooting, Archery, and Hunting Eyewear
Every year, too many hunters are injured because they aren't wearing appropriate protective gear. Errant birdshot, a ricochet, spent shells, and even excessive powder can blow back into your face and cause severe burns or trauma to your eyes.
Environmental hazards like stray branches, leaves, dust, or insects can also get in your eyes – especially if you're spending long hours out in the bush. Shooting eyewear helps to prevent such accidents. Made with a shatterproof material, they redirect projectiles away from your face keeping your eyes—and your life—safe.
See Sharp; Shoot Sharp
As optometrists, the health and safety of your eyes are always our first priority. But many Alberta hunters find that shooting eyewear is useful beyond just the safety concerns. They report their hunting glasses actually make them a better shot. This is because Decot Hy-Wyd Glasses come with a wide variety of tinted coloured lenses, and the different colours can help make your target stand out more clearly.
Many of the shooters we've talked to find yellow is particularly good when firing at targets at a gun range. However, we suggest experimenting with different colours in different contexts prior to making a final decision. To help you with this, we have samples of all the Decot lens colours in house so you can try them. This will enable you to find which ones are best for you.
Decot Hy-Wyd makes it particularly easy to swap out various lens colours since their lenses can be manually removed. That way if you prefer a different tint at dusk, you can swap out the lenses as needed while on the move. Convenience at its finest!
Glasses Built for You
The time we take to produce high-quality glasses is taken very seriously. As such, you can feel assured that we have the perfect pair of glasses just for you. And this meticulous production process is important because glasses aren't just a fashion accessory we wear to complete our outfits.
But rather, they're a finely-tuned tool that you use every single day to safely navigate the world. As a result, a one-size-fits-all glasses "solution" rarely works. Typically, a standardized, cookie-cutter method results in lenses that are not appropriate for all individuals.
It can cause blurred vision, avoidable headaches, and other troubles that can be avoided with a little more personalization.
For these reasons, you'll find that an appointment at Doig Optometry takes a little longer than you're used to. We take careful measurements such as:
Inter-Pupillary Distance
Optical Centre height
Near Point Inset
Working Distance
Down Gaze Angle
Vertex Distance
Pantoscopic Tilt
Panoramic Angle
Binocular Balance
Lifestyle Visual Demands
Only the Best
Making your perfect pair of glasses goes beyond just angles and distances. It's also knowing how your glasses will be used.
That's why we love offering Decot Hy-Wyd Glasses to hunters, available in prescription and non-prescription, distance and bifocal. They're made with your favourite activity in mind. The frames are built to fit onto your head snuggly, so they won't wobble or move around even as you jog through the woods.
The frame is also set behind the lenses to reduce fogging and smudging. When you're shooting, you need perfect vision 100% of the time, and Decot Hy-Wyd understands that. In order to give you the widest field of vision possible, they also kept the bridge between the lenses small and made each lens large.
Their optional hy-lo bridge lets you manually raise or lower the optical centre of your glasses, so your sight is clear and perfect for every shot. Finally, Decot Hy-Wyd glasses are authentically handmade in the United States. While we can make your shooting lenses locally, nothing enhances contrast for target and trap shooting like authentic Decot lenses. When you're out in the bush, you need durable glasses you can depend on. That's why we chose a company that we can trust to offer only the highest quality products and uncompromised material and craftsmanship.
Costs are quoted in Canadian Dollars at the time your Decot shooting glasses are ordered in order to get an accurate Canadian Dollar exchange rate, and an accurate calculation of Canada Revenue Agency Duties and fees.
Improve Your Shot Today!
At Doig Optometry, we know that many Calgarians and rural Albertans enjoy hunting, archery, and shooting. In fact, we are currently the only Decot Sport Glasses provider in Calgary, and we can ship them to you anywhere in Canada.
If you are in the Calgary area, we have every Decot frame style and lens colour in stock and on display so that you can take a look at the product, try it on, and get a feel for the different lenses.
Protecting your eyes and improving your accuracy as a marksperson starts today! Stop by our conveniently located Calgary optometry clinic now!
See Sharp, Look Sharp, Love your Shooting Glasses!