Your eyeglasses lenses will let you see clearly and comfortably when Dr. Chorel or Dr. Doig's prescription is manufactured to exact specifications.
That's why we've partnered with the foremost lens manufacturers in Canada. This way we're able to provide you with the lenses that will work best for you as per the doctor's recommendations and in agreement with your brand preferences.
All of our lenses can be made using Free Form Lens Designs. For sensitive budgets, we can use conventional designs. Scratch resistant, anti-reflective, anti-static, hydrophobic, oleophobic, and UV blocking coatings are available.
We offer high index (thin design) materials, photochromic materials (that darken outside) as well as materials and coatings that reduce exposure to harmful blue light. If you have any questions regarding any of these options, please discuss them with Dr. Chorel or Dr. Doig at the time of your appointment. They will recommend a lens product that will work best for your specific needs, allowing you to See Sharp.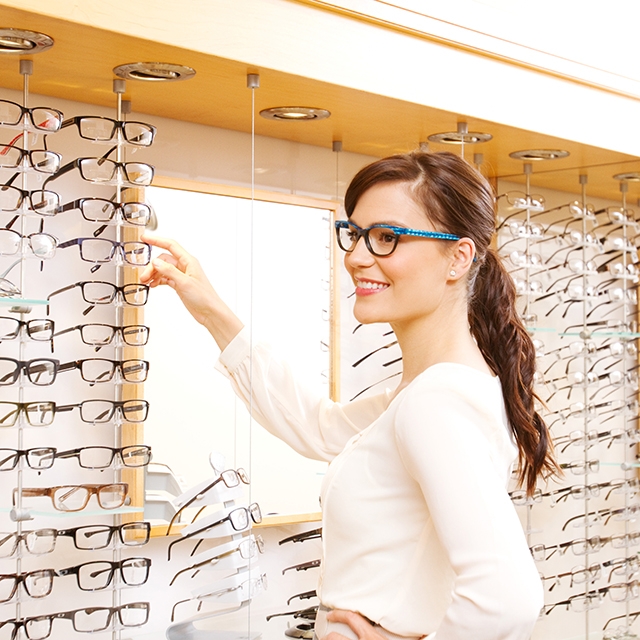 We carry fashion frames in many of the popular lines from Europe, North America and Asia. We carry frames in fashionable styles for women, men and children. We carry frames to suit every budget. Choosing the right fashion in your new frames can transform your look.
We want you to Look Sharp, and that's why we have over 500 frames for you to choose from. We invite you to spend some time in our showroom trying on different styles and looks until you know you've found the style that is entirely, "you". The Doctors and Staff will help you know which of those choices are best suited to your prescription. Next, when your lenses and frames are put together, you'll See Sharp, Look Sharp, and Love Your Glasses.
If you need a new pair of glasses, we invite you to purchase them at Doig Optometry. We want you to See Sharp, Look Sharp and Love Your Glasses.